Workplace as a Service adapts to changing requirements
The ways of working and the management culture are constantly changing, which makes it impossible to tell when and how your organisation, the number of employees and the ways of working will change. With the Covid-19 pandemic, change has accelerated exponentially, and the amount and significance of remote working has increased. Many employees assume that their employer will be flexible about working hours and locations. New ways of working also require the workplace to adapt to the changes.
Martela's Workplace as a Service (WaaS) model ensures that the workplace is always optimal. The workplace is designed in collaboration with the people who will be using it, and our expert team will also be in charge of implementation and of optimising it to requirements. The WaaS model enables the organisation to pay a monthly fee only for what it genuinely needs, which means that the problems related to owning furniture do not exist. This way the workplace will always meet current requirements and goals.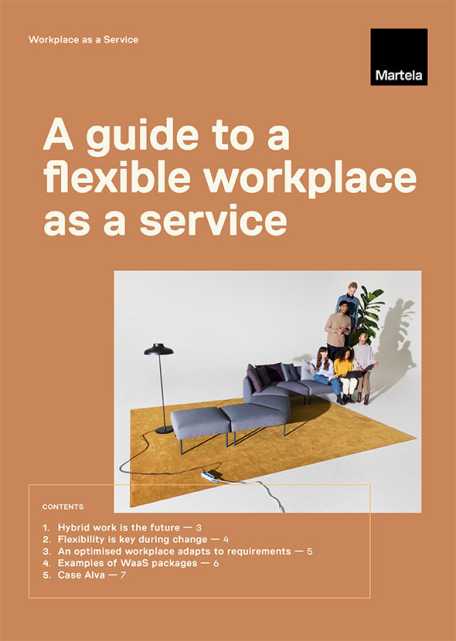 What are the needs of the work environment in the new future? When the future is uncertain, we want to help create flexible work environments for changing conditions. Our free guide explains how the workplace acquired as a service adapts to new needs.
Would you like a workplace that is always optimal?
When your employees feel comfortable in their workplace, their wellbeing and creativity will increase. This will affect the productivity of their work. A company that takes the needs of its staff members into consideration is also an attractive employer.
The Workplace as a Service model is ideal for companies that are transitioning to a new way of working and a user-centric activity-based environment. The service is also suitable for flexible co-working spaces that are shared by employees from different companies, as well as for companies that want their employees to have an ergonomic workstation at their home offices.
Add any of the following to your service package:
Furniture as a flexible lease service
Delivery, installation and recycling services
Utilisation rate and experience measuring
A flexible space optimisation and circular economy model
Our service model allows your company's employees to concentrate on their work while we look after the facilities, furniture, and people throughout the lifecycle of the workplace.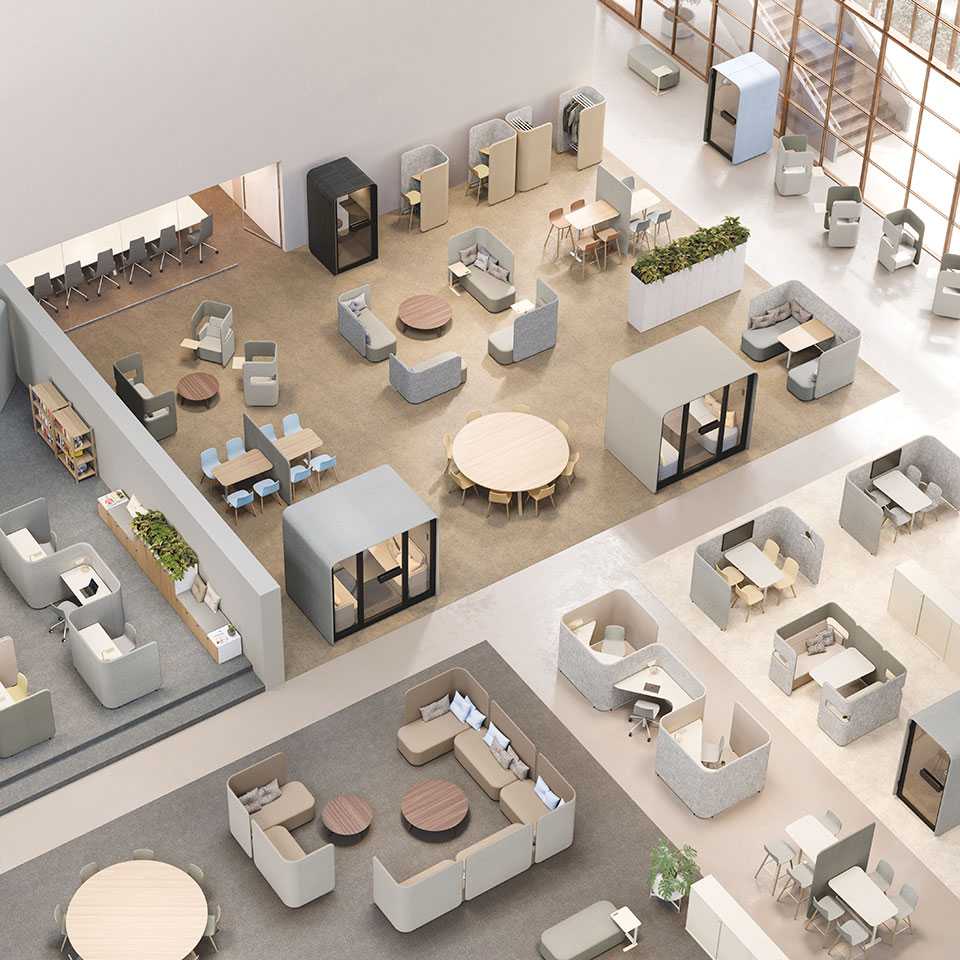 Work environment that is always up-to-date and optimised.
170 user workplace as a flexible service for example € 44 / user / month
The service includes:
Furniture delivered and assembled
Annual monitoring of user experience and utilisation rate
Flexible optimisation and circular economy model
Available in the Nordics only.
Workplace as a Service: four benefits
Improved wellbeing and employee experience
The workplace is scalable and adapts to changes
You pay a monthly fee only for what you use
An easy, responsible and flexible method of acquisition
Check out the references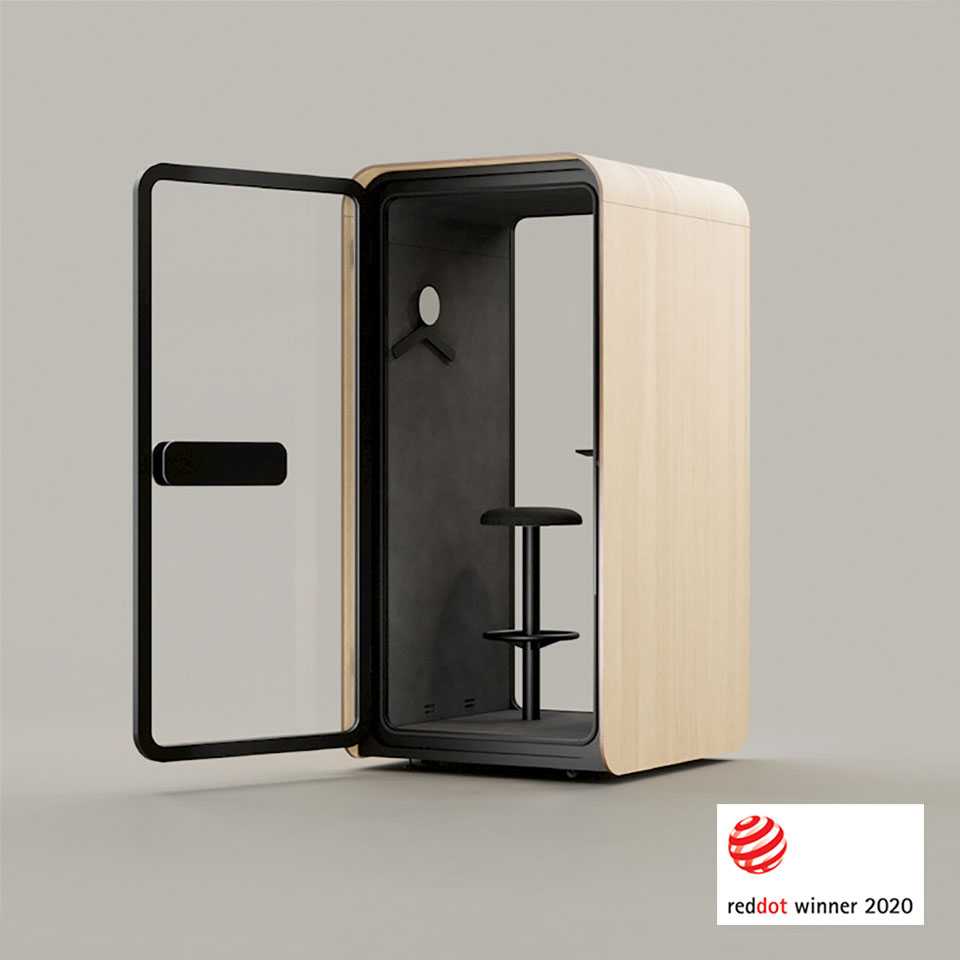 Always keep your work environment up to date and optimised. Our service ensures that your workplace is tailored to the needs of your organisation.
PodBooth as a service for example € 184 / month
Service includes:
PodBooth delivered and assembled
Real-time monitoring of usage and utilisation rate
Flexible optimisation and circular economy model
Available in the Nordics only.
Save money by optimising your premises
Keep your workplace up to date and optimised at all times.
The Workplace as a Service model can be scaled up from the lease of individual furniture to an optimisation and maintenance service that covers the entire lifecycle of the workplace.
It is a good idea to monitor the use and functionality of the facilities regularly.
An essential aspect of the service is also regular optimisation of the workplace according to the changing needs of the users. Optimisation reduces the need for space, which reduces rent, maintenance and service costs. WaaS also removes the risk of ownership, which is why it is perfect for trailblazing companies that want to avoid unnecessary purchases.
Waste Nothing – WaaS is an antidote to throwaway culture.
Martela follows the Waste Nothing principle in all its operations and thus strives to minimise its impact on the environment. Furniture that is no longer needed but that is still in a good condition will be sold responsibly through the Martela Outlet stores or online shop (in Finland). Some furniture are serviced and/or reupholstered before they are sold. The furniture that has come to the end of its useful life will be used for energy production or secondary raw materials.
Martela is a family business founded in 1945.
We design and manufacture user-driven workplaces and learning environments where different kinds of spaces support individual ways of working and learning. We believe that an inspiring environment increases the joy of work, comfort, wellbeing and productivity.