The workplace must also serve the company's sustainability goals.
Martela's responsibility impact extends far beyond the business. Our role in developing workplaces and learning environments gives us an exceptionally good opportunity to have an impact on our customers' responsibility. Attention should be paid to the workplace's environmental impacts over its entire lifecycle. Now is the time to take action – today's choices will shape tomorrow. Martela's circular economy model promotes commitment to sustainability.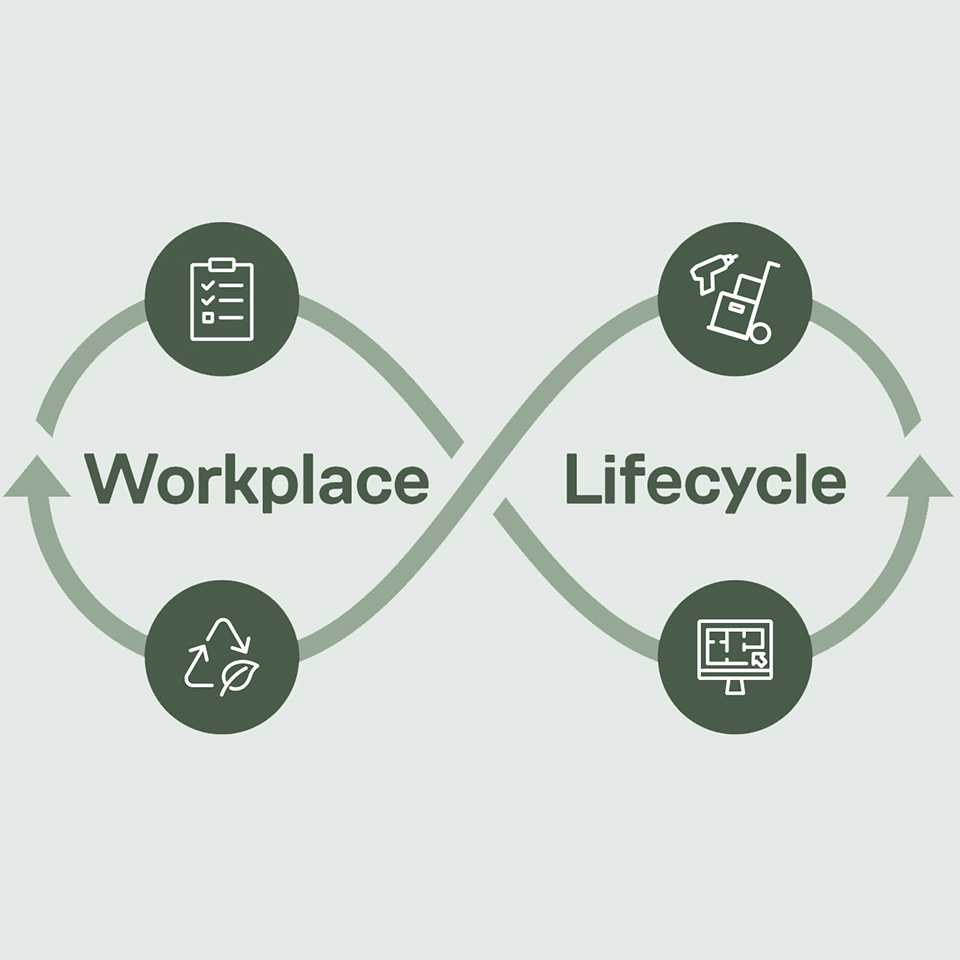 Lifecycle of the work environment
At Martela, we believe that sustainability is linked to each stage of the lifecycle of a space, from defining needs to planning, implementing and continuously developing the space. The materials chosen for a single piece of furniture are also part of sustainability, but let's take a look at the big picture first. More and more companies are updating their facilities using the circular economy model. The concept Waste Nothing is at the heart of our work, which is based on a circular economy. Our durable and timeless furniture are built to last from user to user. When certain pieces are no longer required, we will find them new owners, and if they can no longer be repaired, the materials will then be utilised either as parts for used furniture, as secondary raw materials or for energy production.
Stages of the workplace lifecycle 

Martela's sustainability heritage and future direction
Sustainability has been part of Martela's operations throughout its history. We seek to create durable products that stand the test of time in terms of design and wear and tear. We have invested in sustainable business operations in many areas for decades. Since the implementation of our new strategy in the 2010s, our entire business model has been based on workplace lifecycle thinking. Sustainability is taken into account at every stage, and the circular economy plays an important role.
The pillars of Martela's sustainability are the high-quality criteria of the products, the circular economy model, the Workplace as a Service model and active and transparent responsibility reporting.
The pillars of our sustainability
Our achievements
89%
reduction of scope 2 emissions in 10 years (2012–2022)
99,1%
of all process waste recycled or recovered (2022)
34%
reduction of process waste in 10 years (2012–2022)
Martela's key environmental action is to help its customers to reduce their environmental impacts through the workplace lifecycle model. We also regularly monitor our own sustainability performance.
Our commitment
Achieving carbon neutrality
Improving working and learning environments and reducing environmental impact with the Martela Lifecycle model to ensure the best customer experience
Demonstrating social responsibility in the supply chain and combating corruption and extortion
Read more about sustainability at Martela!
High-quality furniture has many lives
Here at Martela, we think that a high-quality piece of furniture has many lives. The purpose of our repair and maintenance service is to extend the lifecycle of our furniture: the cleaned and refurbished pieces are sold on for a new life through our Martela Outlet shops in Finland. Recycling the furniture reduces its environmental impact, as it reduces the production of new furniture.
Through the Martela Outlet stores, approximately 23,700 pieces of furniture found a new owner after being cleaned, repaired and re-upholstered during 2022. The rest was used for parts, material and energy.