The activity-based office is a platform of various functions and interaction for the organisation's employees, customers and stakeholders. Moving to an activity-based office brings huge benefits in terms of more efficient use of space, improved wellbeing at work and a more comfortable work environment.
Employees have a whole new kind of freedom to choose the work area that best suits each task. In activity-based offices, many will give up designated workstations, but will have up to dozens of new options to replace them.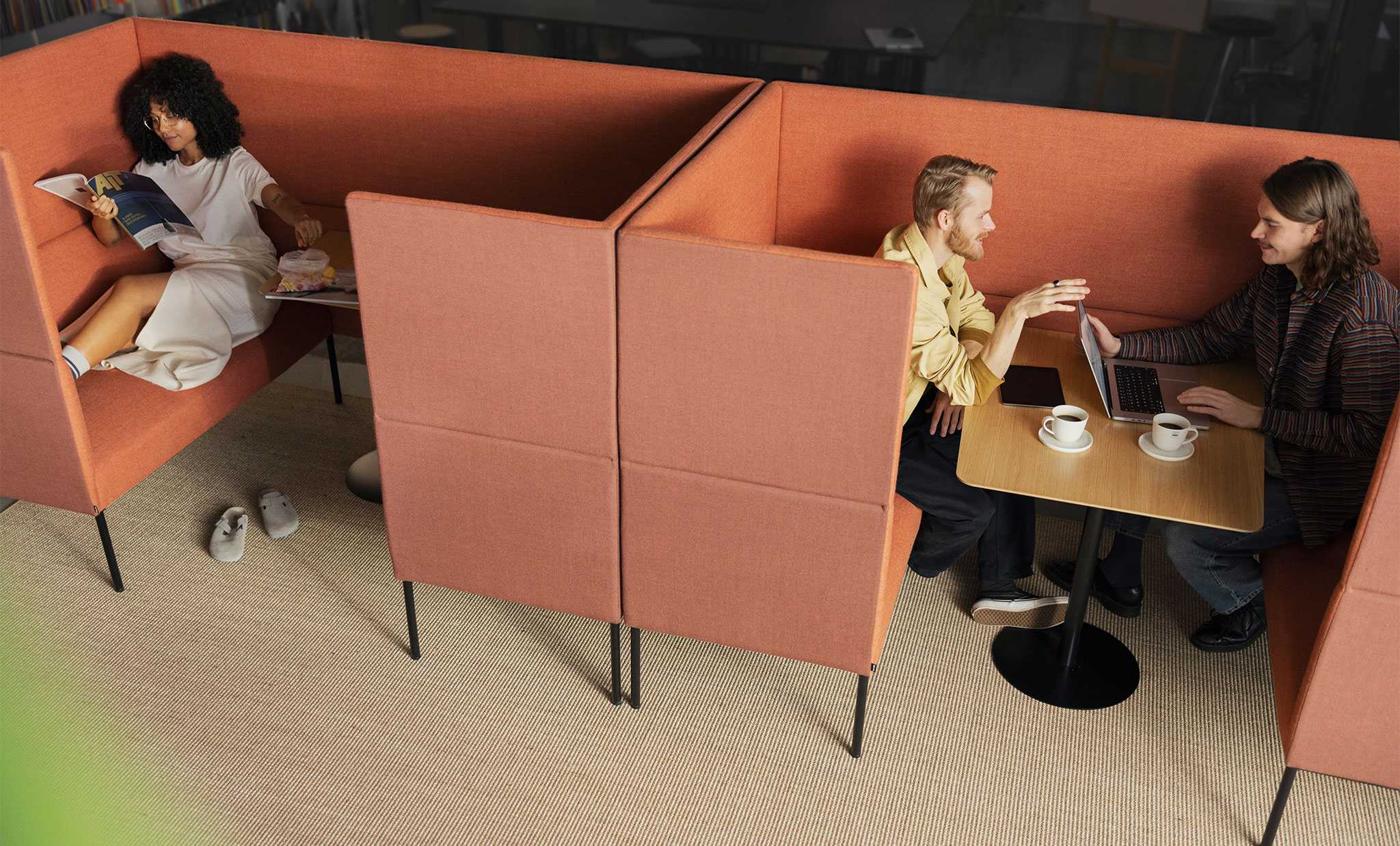 User-centric activity-based office
The activity-based office is a flexible model and its features can be viewed from different perspectives. The activity-based office can be divided into four different areas:
| | |
| --- | --- |
| Collaboration | Different work spaces (e.g. meetings, team work and training) in an open or closed structure, which have the right environment for working together in a creative manner. |
| Communication | Lots of different acoustically limited spaces and rooms for informal and formal meetings open/closed / standing/sitting. Furniture can be used to mark off the different spaces. |
| Concentration | Often closed spaces, which allow the employees to work alone or together in a concentrated manner. It can also be divided area by screens. |
| Chill out | Different spaces and rooms where employees can go to calm down, relax or contemplate. |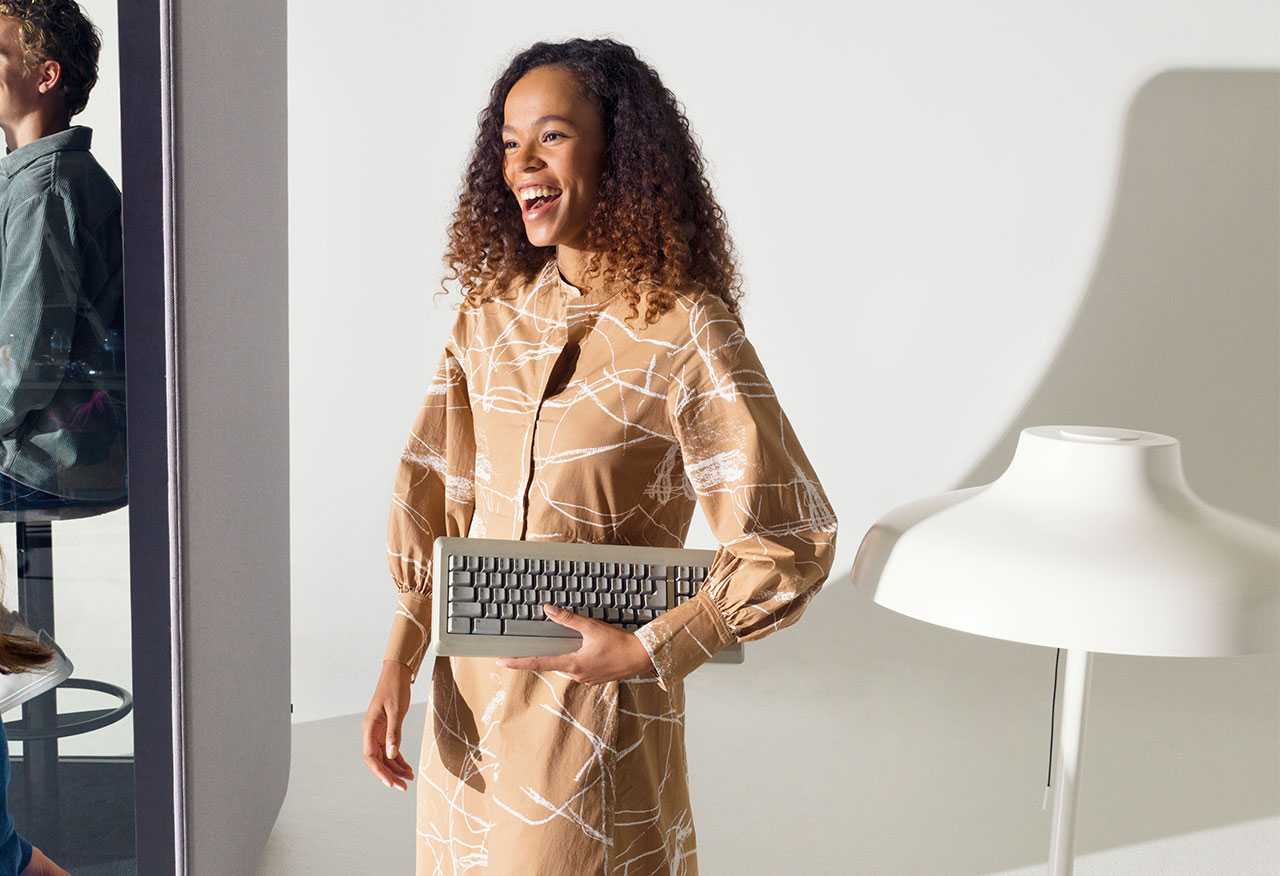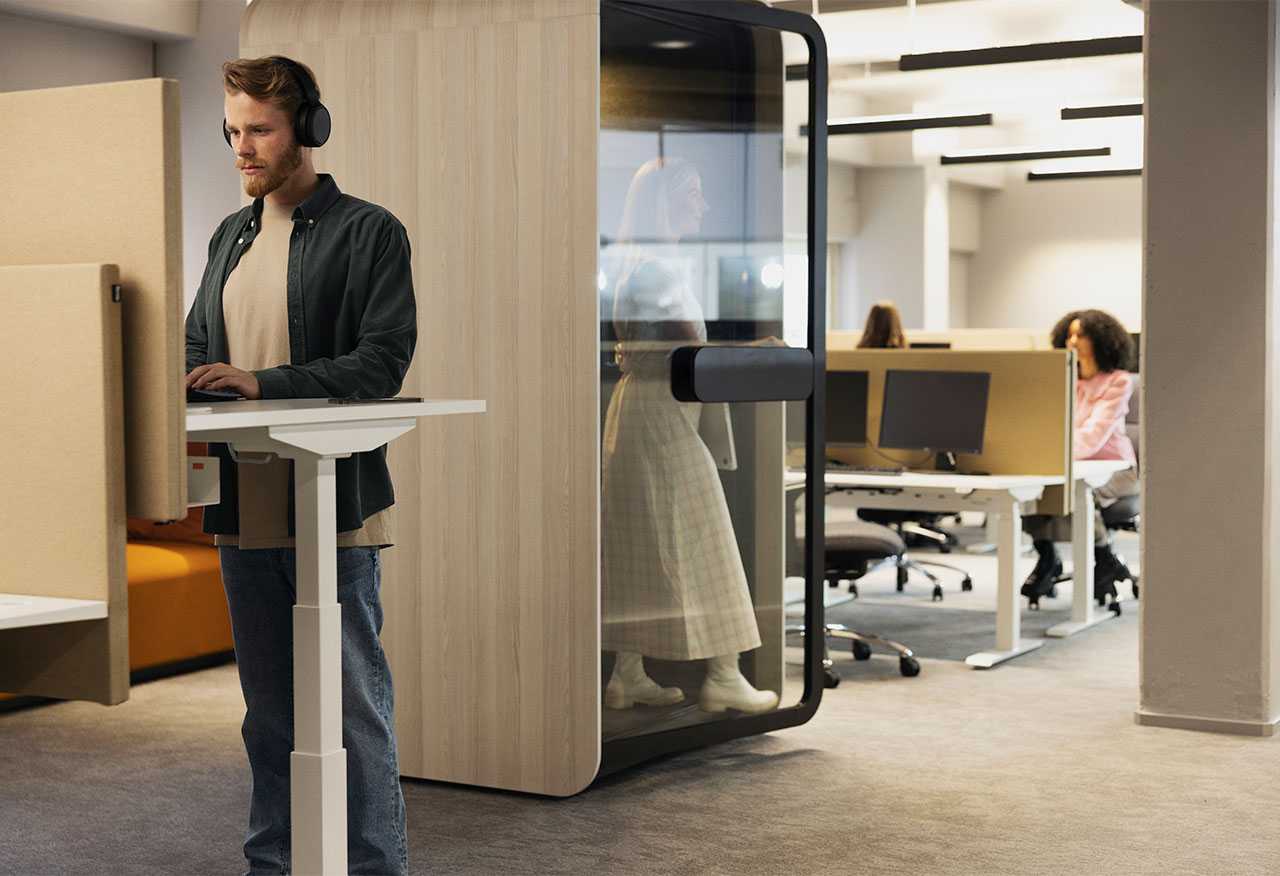 How to create a successful activity-based office?
Every business has different needs.
A successful activity-based office should always be created as a company-specific solution, not a replicable concept. A functioning activity-based office that genuinely supports employee wellbeing and productivity is created through participatory planning, and the planned end result is implemented, for example, through various workshops. In a good work environment, there are areas for different activities: collaboration, communication, concentration and chilling out. In this way, people with different tasks get more out of their work.
An activity-based office is not the same thing as an open-plan office, although they have many of the same elements. The biggest difference is in the functionality.
Four different types of employees
The use of space can be viewed from the perspective of employees by dividing knowledge workers into four groups according to the nature of the job, the need for privacy and the person's own personality: anchors and networkers working in the office and collectors and navigators working in the field. Looking by profiles, the variation in physical, social, and virtual space needs between the four profiles identified is observed.
Benefits of an activity-based office
Martela's expertise helps you to ensure your workplace is a driver for strategic success. Take a closer look at the five key benefits that it can offer your company.
1. Improved wellbeing at work
Employee wellbeing is crucial to your company's success.
When people feel good at their workplace, they achieve better results. In an office implemented with participatory design, each employee feels that the space has been specifically designed for them. Various quiet work spaces are available for employees whenever they need to concentrate on their work without distractions, while diverse opportunities for social encounters improve interaction and flow of information within the company. Comfort and good ergonomics also reduce sickness absences.
2. Increased productivity
A well-designed workspace supports your company's strategy and operating processes.
An easily adaptable work environment that supports modern working culture inspires creativity and directs energy into achieving common goals. In other words, the workplace is one of the most tangible tools of management. Spatial planning based on the organisation's needs can facilitate the processing of information, boost efficient use of time and reduce the amount of distracting interruptions. An investment made in the workplace will quickly pay itself back through higher productivity.
3. Reduction in office space costs
A well-designed office can reduce office costs by up to 50 per cent.
Did you know that studies show that nearly half of office workstations are unused, while at the same time there are not enough of many of the other types of spaces needed? Today, knowledge workers only use their own workstations for some of their tasks and spend more and more time brainstorming in online or live meetings. Today, workplaces are more compact in terms of space than before, yet include a broader range of functions. Good workplaces offer areas for collaboration, communication, chilling-out and concentration, which means that everyone can choose the area that best suits their work.
4. Clearer brand image
Pleasant premises that reflect the company's values are your business card for customers.
They enable you to effectively communicate your company's values and vision, both to your own staff and to visitors. The functionality of the premises, the visual inspiration they provide and the desired brand image are also key factors in attracting the best recruits – and in motivating existing staff. Therefore, to achieve the best results, you must tackle this aspect early on in the planning process based on the company's culture.
5. Responsible workplace
Workplace planning that covers the entire lifecycle of an office is a responsible choice.
Martela's comprehensive workplace planning process, which covers the entire lifecycle of the premises, is also always a responsible choice. Updating a workplace based on genuine needs can reduce its carbon footprint by as much as 40 per cent. We also carefully examine which of the existing fittings and solutions can be used in the new plan. We recycle the surplus fittings and any other material left over during the renovation in a responsible manner. Fittings that are in good condition are refurbished and given a new lease of life through the Martela Outlet chain.
Our maintenance services help to keep new premises in tiptop condition, which reduces the need for major repairs.
Contact us