Martela's PodBooth proven to be the best phone booth on the market
Martela's PodBooth phone booth offers the best speech level reduction on the market when tested according to the ISO 23351-1 standard.
Turku University of Applied Sciences tested Martela's new PodBooth in its laboratory according to the ISO 23351-1 standard. PodBooth's speech level reduction is 31 decibels (DS,A). When this figure is compared with other phone booths tested in accordance with ISO 23351-1, Martela's PodBooth is the best on the market. Comparison data was collected on 105 different products from the manufacturers' own websites on March 24, 2021.
"In a laboratory, each booth is on an equal footing. This is the only way to carry out measurements in a reliable way and achieve comparable results," says Valtteri Hongisto, Research Group Leader at the Turku University of Applied Sciences.
For a phone booth buyer, it may seem difficult to make a comparison of the acoustic characteristics of phone booths, as some manufacturers continue to use a wide variety of testing methods and results in their marketing. Some manufacturers use the airborne sound insulation properties of a booth's elements, such as glazing, in their marketing. However, the airborne sound insulation values given for individual elements of a phone booth do not indicate anything about the speech level reduction of the booth as a whole.
"If you were buying a house from a noise impact area, it would be important to find out about the airborne sound insulation not only of the external walls, but also regarding the windows and ventilation. The absorption materials of internal surfaces also have an impact on the result, in addition to the airborne sound insulation qualities of structural components. The phone booth is the same in this respect: the booth as a whole is important, not its individual parts," says Hongisto.
If the door seams leak, the overall speech level reduction will be poor, no matter how good the glazing is.
Pod serves the needs of modern work
PodBooth is part of the extensive Pod product family, which includes phone booths, workstations and other furniture. The design of the product family focused heavily on usability, details and finishing touches, and last year PodBooth, designed by Design Studio o4i, received the internationally respected Red Dot Design Award.
The design also aimed to create a very neutral overall appearance for the product so that, despite its large size, it would blend into the surrounding furnishings as well as possible. PodBooth's padded and upholstered external shell functions on its own as an acoustic element in its surroundings, and suitable textile options can be used to seamlessly integrate the product as part of the wider interior design despite its size.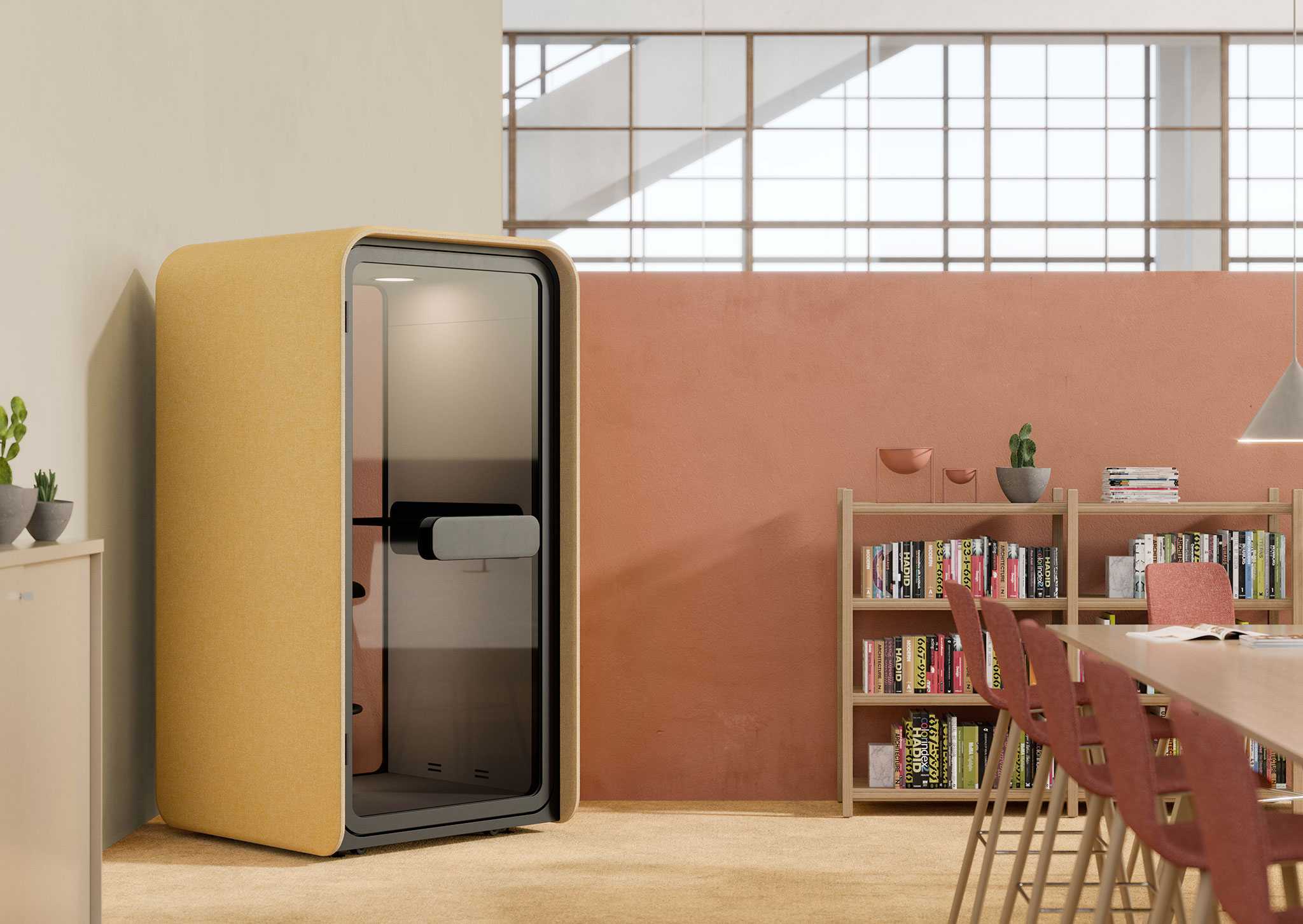 The PodBooth dimensioned for one person, is also available in a larger version, as a meeting booth for up to six people.
"Our aim, right from the very beginning, was to design a product with a world-class acoustic rating. After all, from the customer's point of view, this is the most important characteristic and the reason why phone booths are needed at all. PodBooth and the entire Pod product family are designed to serve the needs of modern work, where it is important to find a balance between privacy and community. People will return to their offices to seek inspiration from encounters once suitable facilities have been provided for various tasks," says Kari Leino, VP, Brand & Design, Martela.
Now is the time to get your workplace in order
Many companies are now thinking hard about what kind of working life we will return to after the state of emergency is over. The current workplace may no longer serve employees' needs at all, and companies may be required to provide a modern workplace very soon.
Martela's solution to rapidly changing needs is the Workplace as a Service (WaaS) model. All products in Martela's popular Pod product family are available as part of this WaaS model.
In the service, the company pays rent each month for the workplace, including its furnishings and other services. The functioning of the workplace is measured and the premises are adjusted as needs change, without separate investment needs.
The service model provides more flexibility for workplaces, improved risk management and better predictability of costs. Property and workplace costs play an important role in a company's cost structure: premises and their changes easily tie up to a considerable amount of capital.
"The world is changing rapidly, and it is difficult to predict what our needs will be tomorrow. For businesses, this flexible service model based on leasing is a smart way of future-proofing the workplace in the long term," says Leino.