Nitor takes good care of experts
Nitor, a digital engineering company, offers digital solutions and transformation consultation. The company has grown rapidly in recent years and currently employs more than 170 experts in Helsinki and Stockholm.
Nitor was founded on the principle that good care must be taken of both customers and the company's own experts. This means that, among other things, any obstacles to experts' work must be removed so that the experts can work effectively. As an organisation, Nitor has very low hierarchy, which means that employees' management of their own work and wellbeing and a coaching-oriented culture are crucial factors. As recognition for its successful focus on workplace culture, Nitor was awarded first place in the Great Place to Work competition in 2018 and 2019.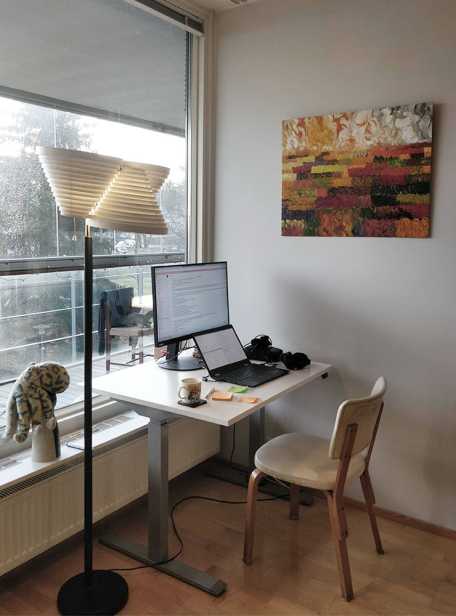 Flexible personnel benefits also during the pandemic
After the outbreak of the Covid-19 pandemic in the spring, Nitor had to decide how to support the wellbeing of its personnel in the novel situation. The company's solution was to provide an electrically height-adjustable desk and a task chair for remote working for everyone who wanted them. Because there was no certainty of how long the extraordinary situation would last, the remote workstations were leased as a flexible service from Martela Outlet. "The procurement as a service model seemed a natural solution. We also procure our other equipment – computers, monitors and keyboards – flexibly," says Olli Auvinen, Nitor's CEO. "It always pays to invest in your employees," he adds.
Responsible work culture supports wellbeing
"In our work culture development meetings we look at how to support work comprehensively. In addition to providing an ergonomic workplace, we have also expanded our massage benefits, for example. The pandemic really highlighted how important it is that our support systems are in order. Our personnel also have access to short-term psychotherapy services," says Tiina Vanala, People Operations Specialist, Nitor. The furniture was procured from the Martela Outlet chain of high-quality refurbished recycled furniture. "Our goal is to be responsible in everything we do," Vanala says.