Sustainability at the core of business development
Sustainability is part of all operations at Martela. In this article, Ville Taipale, CEO, Anne-Maria Peitsalo, Director, Sustainability & Quality, and Eerikki Mikkola, Head of Business Design & Development, discuss the significance of sustainability for Martela and its customers.
Climate change and loss of biodiversity are subjects of debate and concern. People require companies to act in a sustainable way and to provide everyday solutions that match their values. How does Martela take this into account in its operations?
Ville: The advancement of climate change has a major impact on our customers. They are increasingly aware of it, and we are expected to provide solutions for the sustainability challenges faced by companies. Martela's strength is its ability to offer solutions for the workplace as a whole.
Solutions developed together with our customers, such as the Workplace as a Service model (WaaS), strengthen our role in combating climate change. Martela has been a forerunner for a long time in the circular economy, which is now growing strongly. Martela Lifecycle® is our model for sustainable consumption.
Eerikki: Sustainability is continuously increasing in importance, and our design philosophy has allowed us to incorporate the circular economy principle into the core of our business and into our customers' workplaces. Products are designed in a way that maximises their lifecycles and with design that stands the test of time. Furniture that is no longer needed can later be serviced and re-upholstered, which extends its lifecycle so that it becomes recycled furniture that is used by another customer. The circular economy is, however, much more than just recycling. Ownership will become less important, and companies are also increasingly transferring to using a service model based on the circular economy which allows the entire workplace to  remain up to date and optimised.
Anne-Maria: We offer our customers workplace services and products while ensuring implementation of the circular economy at the workplace at the same time. We have recently joined a research programme run by the Technical Research Centre of Finland (VTT), LUT University and Business Finland which aims to develop reliable and comparable world-class means to show the positive impact of circular economy solutions, i.e., the carbon handprint. When a customer has access to comparable information, it is easier for them to make sustainable decisions.
Ville: By utilising the service model and the opportunities of circular economy, customers will be able to reduce their own carbon footprint. Part of it is optimising the utility rate of premises and designing the premises based on the actual needs. In this way we can have an impact on energy consumption and the property's expenses. In addition, a pleasant and functional workplace will have an impact on occupational wellbeing and the results of the work.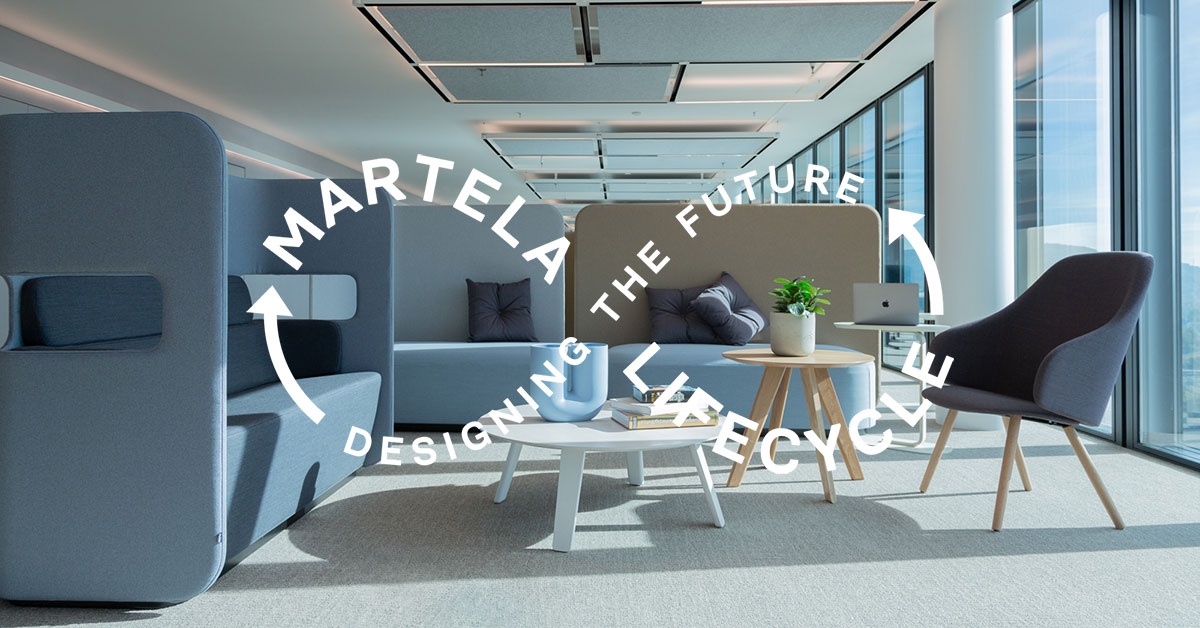 The COVID-19 pandemic has transformed working life and workplaces radically. Health security must be taken into account, and remote work has become an option alongside office work. What is the workplace of the future like, and how does it differ from the current one?
Anne-Maria: A workplace must be able to adjust to the rapid changes in situations and the way we work. Using a service model means that the workplace can adapt to changing needs much faster. Compared to purchasing furniture, a service model makes it easier to ensure that the technical quality of a workplace is always in order and meets requirements while at the same time the lifecycle of individual products is maximised.
Eerikki: Quality will become increasingly important, and the need for flexibility will increase. Major transformation projects will be replaced with small and increasingly real-time updates. A workplace will live according to the needs of the people and the business.
Ville: The importance of job satisfaction and occupational wellbeing will increase in terms of maintaining physical and mental health. One of the ways of reducing sickness absences is to take care of ergonomics.
How can Martela help companies and organisations adapt to changes now and in the future?
Anne-Maria: Our mission is to create environments that employees will want to return to. A functional space is attractive and ergonomic, it invites people to be physically present and enables various forms of collaboration.
Eerikki: Understanding the needs that people have allows us to offer the right solutions in terms of quality and dimensioning. Sustainability is taken into account throughout the entire operating chain.
Ville: Martela is capable of implementing the entire workplace service from start to finish, all the way from R&D and space planning to installations, maintenance and recycling of products in a sustainable, efficient and competitive way.
What were the greatest successes of 2021 in Martela's sustainability work?
Ville: Martela has been committed to complying with the principles of the UN Global Compact since 2011. Our commitment shows through the concrete work we do to secure a sustainable supply chain.
Anne-Maria: Some of our customers have focused on ensuring the sustainability of their purchases with a third-party audit. In the audit, we have managed to prove the functioning of the social responsibility management processes of our supply chain in practice. We are also proud to have the opportunity to participate in the recently launched Carbon handprint programme, which will allow us to show how our circular economy model generates true added value for our customers and the environment.
Eerikki: Sustainability is at the core of developing our business. Demand for and use of our service model and recycled furniture are clearly increasing.
Martela has managed to renew itself over time by meeting the needs of working life at any given time and even by anticipating them. How can Martela renew itself and stay up to date in its current operations?
Ville: The ability to renew originates from Martela's history: by challenging ourselves, we have always been a pioneer in technologies, services and products related to the workplace. We monitor the market and the megatrends, focus on R&D and have the best experts in the industry. Our clientele represents the leading companies in their industries globally, and we have a strong network of partners. We believe that development makes us competitive and creates opportunities for growth.
Eerikki: Together with our customers and partners, we are able to anticipate needs that form the basis of development. We must be agile and ready to adapt and we must observe the quickly changing situations when designing our services.

Do you want to know more about sustainability in workplace development?
Do you want to learn more about the Workplace as a Service model?
Anne-Maria Peitsalo
Director, Sustainability & Quality
anne-maria.peitsalo@martela.com
+358 10 345 5205
Eerikki Mikkola
Head of Business Design and Development
eerikki.mikkola@martela.com
+358 10 345 5128